"Try gargling with a mild salt water solution. German scientists conducted experiments on coronaviruses in the throat to demonstrate that gargling with salt water completely alkalizes the throat, creating a hostile environment for the virus that makes its survival difficult," reads a claim in Chinese shared here on Twitter on December 14, 2022.
An accompanying 58-second clip showing stock videos of medical professionals working in a lab and sanitising streets and buildings has been viewed more than 2,000 times.
Simplified Chinese text superimposed on the video reads: "German-style preventive measures end Covid-19."
At the video's 35-second mark, the Mandarin voiceover can be heard saying: "German scientists have assured the German Ministry of Health that if every German gargled daily with mild salt water, Covid would be eradicated within a week."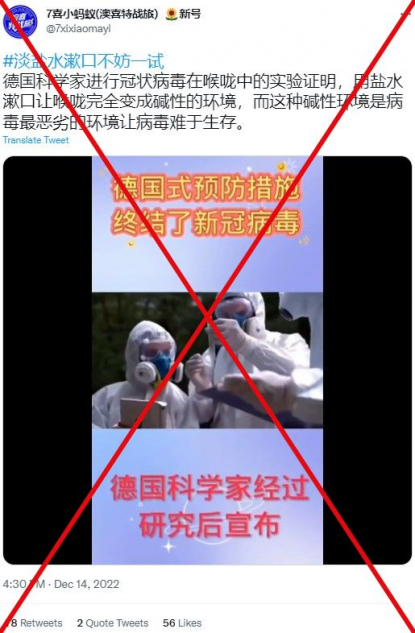 The claim began to circulate online after China abandoned its zero-Covid strategy on December 7.
The surge of Covid-19 cases that followed overwhelmed hospitals across the country, sparked a run on supplies and medicines, and fuelled the spread of misinformation about the disease.
AFP has previously debunked a claim that taking showers would worsen Covid-19 infections here.
Similar videos with the same claim have been viewed more than 80,000 times on Twitter here; Douyin, the Chinese version of TikTok, here, here and here; Chinese social media platform Weibo here, here and here; and Chinese video sharing platform Xigua here.
Comments on the posts suggest that some users took the claim as genuine advice against Covid-19.
"After I stockpiled medications, now it's time to rush to buy salt again," one user wrote.
"Hurry up to stock up on salt," said another.
However, the claim is false.
German study
AFP found no research conducted by German scientists indicating that gargling with salt water would eradicate the coronavirus.
Instead, keyword searches on Google found a similar study published by Ruhr University Bochum on August 10, 2022, which concluded that certain commercially available mouthwashes can reduce the risk of coronavirus transmission.
At that time, Toni Meister, the lead author of the study said that mouthwashes are not suitable for treating Covid-19.
The study made no mention of the saline solution.
Eike Steinmann, head of the Ruhr University Bochum's Department of Molecular and Medical Virology, said there is "no scientific evidence for therapeutic and preventive effects of gargling salt water."
"Salt water doesn't have antiviral effects. I'm not aware of downsides of gargling with salt water, but it shouldn't be used as a surrogate for other treatment options or a vaccination," he told AFP on January 10.
'Has no effect at all'
Ian Jones, a virology professor at Reading University, said the claim is "simply nonsense".
"While some mouthwashes can reduce virus viability, saline is not one of them so gargling with salt water has no effect at all," Jones told AFP on January 9.
As of January 11, the World Health Organization does not recommend any treatment for Covid-19 that involves gargling salt water.
AFP has previously debunked claims about the efficacy of gargling salt water to treat Covid-19 infections in 2020 here and here.

Copyright AFP 2017-2023. All rights reserved. Users can access and consult this website and use the share features available for personal, private, and non-commercial purposes. Any other use, in particular any reproduction, communication to the public or distribution of the content of this website, in whole or in part, for any other purpose and/or by any other means, without a specific licence agreement signed with AFP, is strictly prohibited. The subject matter depicted or included via links within the Fact Checking content is provided to the extent necessary for correct understanding of the verification of the information concerned. AFP has not obtained any rights from the authors or copyright owners of this third party content and shall incur no liability in this regard. AFP and its logo are registered trademarks.