"Sit down, you'll hear what I have to say," Biden says in the video, as the crowd, unseen in the background, appears to drown him out with jeers of "Fuck Joe Biden."
The January 23, 2023 Instagram post racked up more than 11,000 likes and 198,000 views in a matter of days. Similar clips have circulated online for months.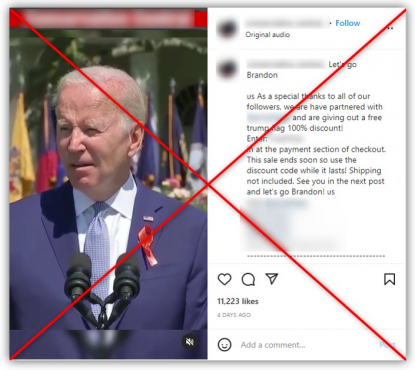 But the video has been digitally altered, to layer the chant over footage of Biden's July 11, 2022 remarks in commemoration of the passage of a law aimed at reducing gun violence, the Bipartisan Safer Communities Act.
Reverse image searches using frames from the edited video and keyword searches based on the words Biden spoke led AFP to the original footage.
The original video and White House transcript from the event show that as the president spoke, he was interrupted by Manuel Oliver, whose son was killed in the 2018 mass shooting at Stoneman Douglas High School in Parkland, Florida. Oliver's protest made headlines across US media.
However, Oliver did not chant the anti-Biden slogan. Instead, the father-turned-activist called for more action in response to gun violence in the US and suggested that the White House open a separate office devoted to the issue.
"We have to do more than that," Oliver shouted, according to the White House transcript.
Several US news organizations recorded videos of Oliver as he spoke and was confronted by security agents. Photos of the episode show him acting alone.
Oliver later clarified his remarks to ABC News, saying he did not arrive with plans of interrupting the president but became frustrated by the event's celebratory tone given the country's ongoing struggles to stop gun violence and mass shootings. Security escorted him out.
"I didn't say F… Biden," Oliver said in a January 30 Twitter direct message to AFP. "I asked him to open an office dedicated to Gun Violence and nothing else. I respect Mr Biden and gave him my vote."
AFP also reached out to the White House, but no response was forthcoming.
AFP has previously debunked several other videos that were digitally altered to include anti-Biden chants, including here, here and here.
January 30, 2023 This article was updated to add comment from Manuel Oliver.

Copyright AFP 2017-2023. All rights reserved. Users can access and consult this website and use the share features available for personal, private, and non-commercial purposes. Any other use, in particular any reproduction, communication to the public or distribution of the content of this website, in whole or in part, for any other purpose and/or by any other means, without a specific licence agreement signed with AFP, is strictly prohibited. The subject matter depicted or included via links within the Fact Checking content is provided to the extent necessary for correct understanding of the verification of the information concerned. AFP has not obtained any rights from the authors or copyright owners of this third party content and shall incur no liability in this regard. AFP and its logo are registered trademarks.