"Following the shoddy reception for the Saudi crown prince, [South Korea] held a welcome reception for the Spanish prime minister yesterday at a construction site that hasn't even opened yet," reads a Korean-language Facebook post shared on November 18.
"Who can blame [the Spanish] if they shun South Korea?"
The post shows two photos of Sanchez speaking at a podium in a building with exposed concrete walls and floor.
Sanchez made a state visit to South Korea between November 17 and 18, following a trip to the country by Saudi Arabia's Crown Prince Mohammed bin Salman.
'Shoddy reception' appears to be a jibe at Yoon's new residence in Seoul's Hannam-dong district where he received bin Salman — a modern, white, box-like complex he chose to live in, snubbing the historic Blue House that is traditionally home to South Korea's leaders.
While Yoon insisted he was making good on an election promise to return the Blue House to the people — opening the once-fortified compound to visitors — critics slammed the move as a costly waste of time and money.
The photos were shared in similar Facebook posts here, here and here, as well as on Twitter, prompting criticism of South Korean authorities.
"Official welcome at a construction site? So embarrassing for South Korea," read one comment in Korean.
"I just don't get it. They could have used the Blue House to welcome him," read another.
Yoon, a lifelong prosecutor with no prior experience in elected office, has become a regular target of disinformation in South Korea, fuelled by his dire approval ratings and what analysts describe as a string of mishaps since he came to power.
While Sanchez genuinely visited a construction site during his visit to South Korea, he was in fact attending an event to unveil a plaque at the site of a Spanish language and culture institute, not at a ceremony to welcome him to the country.
The South Korean foreign ministry published the first photo with the caption: "Prime Minister Sanchez speaks at a plaque unveiling ceremony at the site of the future Cervantes Institute (Unesco building) in Seoul on November 17 (Thursday)."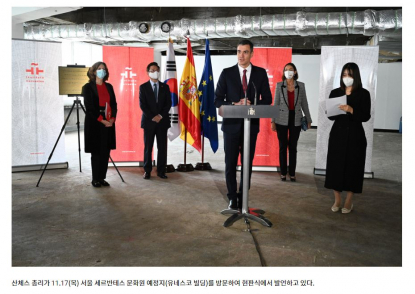 The centre, which is set to open in 2023, is located in the same building as South Korea's Unesco headquarters.
The second photo was posted in a tweet by the Cervantes Institute, which said it showed Sanchez unveiling a plaque during his visit, accompanied by the institute's secretary-general Carmen Noguero and South Korean culture minister Park Bo-gyoon.
Yoon was not present at the event, according to news reports and his official diary.
According to the president's diary, South Korea hosted an official reception for Sanchez at the presidential office on November 18, the day after he visited the Cervantes Institute.
The diary lists "Korea-Spain leaders' welcome reception" on November 18, along with a summit and joint press conference.
South Korean and Spanish media covered the reception, which involved a meeting between Yoon and his Spanish counterpart, followed by a luncheon.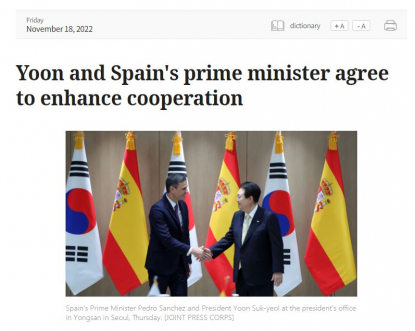 AFP has previously debunked misinformation about the South Korean president, including here and here.

Copyright AFP 2017-2022. All rights reserved. Users can access and consult this website and use the share features available for personal, private, and non-commercial purposes. Any other use, in particular any reproduction, communication to the public or distribution of the content of this website, in whole or in part, for any other purpose and/or by any other means, without a specific licence agreement signed with AFP, is strictly prohibited. The subject matter depicted or included via links within the Fact Checking content is provided to the extent necessary for correct understanding of the verification of the information concerned. AFP has not obtained any rights from the authors or copyright owners of this third party content and shall incur no liability in this regard. AFP and its logo are registered trademarks.