"When you hear that airports are finally ditching the 100ml liquids hand luggage rule in 2024," says text in a short clip shared December 4, 2022 on Instagram.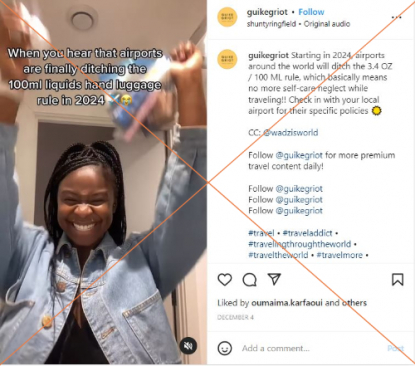 The clip comes from TikTok, where it gathered nearly five million views. But the claim is misleading.
The UK government announced December 15 that, by summer 2024, air travelers will no longer be limited to carrying liquids under 100 ml in their carry-on luggage. Passengers will be permitted to take bottles of up to two liters on board with them.
However, this policy change — reported by The Times newspaper in the UK on November 23 — has not been announced worldwide.
"At present, the UK is the only country to announce it will ease the restrictions on carrying liquids," Kalliopi Lazari, senior communications specialist for the International Air Transport Association, told AFP.
'Years away'
In the US, liquid volume restrictions are still in effect nationwide — and there is no publicly announced plan to change them.
The UK's policy change comes with enhanced X-ray scanning at airport security checkpoints. The machines will rely on computed tomography (CT) technology that produces 3-D images for screening passengers' items.
Some airports outside the UK, including Amsterdam Airport Schiphol in The Netherlands, have also rolled out CT technology to ease their liquid carry-on policies at security checkpoints.
A Transportation Security Administration (TSA) spokesperson told AFP on December 21 that CT technology is being deployed at airports in the US as well, but that "we are years away from announcing a change to the current liquids rule."
The spokesperson added: "Passengers with exceptions, such as people traveling with infants, nursing parents or travelers with medical needs, may carry on liquids exceeding 3.4 ounces. However, TSA requires additional screening to ensure the safety of these liquids. Travelers in this group should notify security of their medically necessary liquids."
Travel industry analyst Henry Harteveldt told AFP that "other countries will carefully study the results of the UK," but "even if the UK policy proves to be successful, it is uncertain whether other countries will follow suit."
Liquid carry-on rules were tightened internationally after British authorities in August 2006 foiled an alleged plot to blow up US-bound airliners using explosives smuggled in drinks and other containers.

Copyright AFP 2017-2022. All rights reserved. Users can access and consult this website and use the share features available for personal, private, and non-commercial purposes. Any other use, in particular any reproduction, communication to the public or distribution of the content of this website, in whole or in part, for any other purpose and/or by any other means, without a specific licence agreement signed with AFP, is strictly prohibited. The subject matter depicted or included via links within the Fact Checking content is provided to the extent necessary for correct understanding of the verification of the information concerned. AFP has not obtained any rights from the authors or copyright owners of this third party content and shall incur no liability in this regard. AFP and its logo are registered trademarks.